Bentley Puts EV Plan into Action, Maserati Reveals Stunning First EV, An Electric Boxster! + How Used EV Batteries Could Power Your Home and More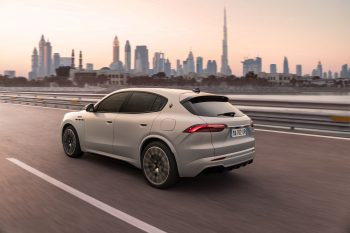 March has proven to be a fantastic month in the EV space, with the reveal of the ID. Buzz, rapid developments in car battery technology and much more. This week, we're peeking into two luxury vehicle manufacturers who have joined the electric revolution. Bentley has lain out its plans to go fully electric by 2030, and Maserati has unveiled its gorgeous new EV model. Read on for all this and more. 
But it's not just luxury manufacturers in this week's spotlight. Check out our quickfire round for all the wonderful developments taking place across the globe. Read about Suzuki and SkyDrive's partnership as they pair up to develop a flying car. We may have missed the deadline for Back to the Future, but better late than never, right?
Of course, we couldn't help but include the latest reveal from Porsche. The German manufacturer has announced that their Porsche 718 Boxster will be receiving its very own electric makeover in 2025. Visually stunning AND environmentally friendly? Yes please
(Pictured: 2016 Porsche Boxster)
If you're also excited to know about the developments going on in the EV tech department, we've got you covered. Why not read about how upcoming technology may make charging an EV faster than refuelling an ICE vehicle? What about how used EV batteries could be transformed into home power storage?
Read on into this week's quickfire round for all this and more from the EV news space.
Bentley Reveal Plans to Go All-electric by 2030
The Global Push to Go Electric
Vehicle manufacturers from around the globe have now detailed their plans to go fully electric. Toyota, BMW, Ford, Honda, Kia, Mazda… The list goes on. Luxury carmakers are no exception, with Ferrari stating its plans to go electric back in April last year, and Lamborghini announcing its EV plans in January this year. 
Bentley Joins the Ranks
Bentley is the latest to announce their intention to go all-electric, with a complete conversion to electric happening by 2030. Before then, the brand will make the switch to selling only hybrid and battery-operated electric vehicles by 2026.
Much like Rolls Royce, who have their first electric car scheduled for 2023, the decision to go electric is a major milestone in Bentley's rich history. The brand, synonymous with wealth and luxury, is now adding environmentally friendly and sustainable to its core values.
Bentley's Future Plans
As of yet, Bentley has not provided specific details on the first EV they will produce. However, they have stated that their first fully electric car will be produced in 2025, with a new zero-emission model coming out every year to 2030. For the followers of this historical company, an exciting turning point is on the horizon.
This is Maserati's Very First Electric Car
Maserati's First EV
Gather round folks and feast your eyes on the trident's all-electric SUV, named the Grecale Folgore. A mid-sized SUV which will arrive in 2023, the latest creation from Maserati comes as part of the brand's 'Folgore' electrification strategy. 
This isn't the only EV that the Italian manufacturer has in the pipeline, with an all-electric variant of the GranTurismo coupe arriving in 2023, as well as the Levante SUV and more. 
A New Electric Dimension
Powered by a 105kWh battery, the Grecale EV variant looks to pack plenty of range when compared to similar models on the market. Its size is also similar to the BMW iX3, while remaining visually identical to the ICE variant of the Grecale. 
As for the interior, there hasn't been too much information released yet. Promising to be virtually identical to the ICE variant, it's like the electric model will feature a 12.3-inch digital display, as well as an 8.8-inch central command touchscreen.
For onboard tech, you'll have access to Android Auto, Bluetooth, Apple CarPlay and more.
Limitless Luxury
While it's unlikely that many of us will be getting our grubby paws on a Grecale, it's fantastic news to see the brand taking a step in the right direction. With vehicle manufacturers around the world taking steps to go fully electric, we can't wait to see the creations they come up with.
…But your first EV doesn't have to be a Maserati. If you're interested in switching to electric, but are not sure where to start, why not check out our used electric vehicle marketplace? 
Quickfire Round:
This Week's Numbers:
£990 – Million to be invested by Suzuki into EV production in India
5.5 – Million vehicles to be electrified by businesses in the EV100 by 2030
$7.1 – Billion will be put down by Volkswagen as part of their electric makeover in the US