Power, performance, broken records and more in this week's EV news spotlight
We're back with a jam-packed post this week bringing you the latest in the EV car news space. Let's look at four top EV stories from across Europe.
But first, don't forget! Check out the 2023 Cadillac Lyriq, read about supercar manufacturers edging towards their electric futures and more in this week's quickfire round.
There's also great news in this week's numbers – 1,000 free EV charging stations have been planned across western Sydney.
As for our highlighted stories, a secret weapon blasts away the competition at this year's Goodwood Festival of Speed, shattering records with an eye-watering 0-60mph time.
EV news from Ferrari – they have announced a year for producing their very first battery electric vehicle, enhancing the Ferrari thrills, (without the oil spills) of its ICE predecessors.
Polestar announce that their 2024 Polestar 5 electric sedan will pack the most power out of its entire line-up, even punching out more power than the Porsche Taycan.
Last but certainly not least is Citroen's latest creation, the Ami EV – an affordable EV which has already sold out its first round of production in record time.
Breaking Records at the Goodwood Festival of Speed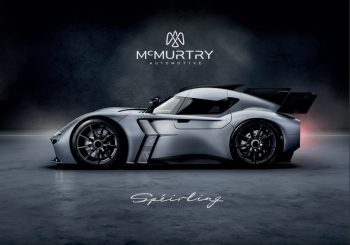 The Goodwood annual Festival of Speed, held in the UK, has witnessed another monumental first as the all-electric McMurty Speirling dominated the competition. So how does a car like this achieve 0-60mph in just 1.5 seconds? The secret is technology that goes back over 50 years.
Catapulting from the start line, the Speirling produces over 2,000kg of downforce. This is thanks to a fan installed underneath the car that sucks up the air, creating a vacuum and with it, a whole lot of downforce.
Hold onto your seat and watch the McMurty in action here.
Big Update from Ferrari on Their First BEV

A Truly Super Electric Future
Supercars are all about thrills, speed, and everything in between – we love it. For all their speed though, we'd like to see more supercar manufacturers take these features over to the green side when it comes to developing their EV line-up.
German manufacturer Porsche sped off the line when embracing an electric future, however their Italian cousins, Ferrari and Lamborghini, really appear to be milking that espresso before hopping on board.
Ferrari's First BEV
So far, the Italian team have been working on their first EV behind closed curtains. Ferrari is known for its tradition, sweeping through winding Italian roads with cars that are loud, sexy, and adrenaline-pumping. With their first BEV now announced for 2025, it's time for the brand take their history, marry it with the technology of the future, and produce something truly special.
You can count on us to spill the beans when more information is announced.
Polestar Packs More Power Than the Porsche Taycan
Double the Power, Double the Fun
Latest in development from Polestar is the Polestar 5, featuring an entirely new electronic drivetrain that means one thing for us EV nerds, more power. It will deliver combined outputs of 650kW and 900Nm, beating the current output from the Porsche Taycan Turbo S, which currently sits at 560 kW.
And what does more power mean? A whole lot more fun. I mean, sweeping silently along roads in a stunning car like the Polestar 5, power at the twitch of a pedal, and it helps the environment… What's not to love?
The Reveal
We can expect to see a full reveal prior to the 2024 launch date. We'll keep you updated as soon as we are aware of an official release date.
Citroen Ami Sells Out in Less Than 20 Minutes
Cute and Cuddly – Sold out in Minutes
Powering into recent news is the super cute and affordable Citroen Ami, which achieved staggering numbers as all 21,000 units were sold out within 20 minutes of the official launch.
The My Ami Buggy, as it is officially known, won't be known for breaking any speed records, however this cute EV won the hearts of thousands, and for a good reason. Priced at approximately $10,300, the Ami has a range of up to 70 kilometres, making it a cute little run-around for inter-city and short-range travel, as well as a joy to take through the backstreets.
Quickfire Round
This Week's Numbers
313 – Mile range for the new Launch Edition Audi Q4 e-tron.
30 – Knots achieved by Stockholm's newest electric ferry.
1,000 – Free EV charging stations planned across western Sydney