Triumph Announces TE-1 Project Completion, Ducati Releases Two Electric Folding Bicycles and More In This Week's Two-Wheeled Special
This week the theme is 'two-wheels', where we're looking at the latest and greatest in electric motorcycle and bicycle engineering.
The Triumph TE-1 has officially reached project completion, exceeding predicted test results with an electric motorcycle that is nothing short of "badass." 
Fellow motorcycle manufacturer Ducati has also released two new electric folding bicycles. True to their pedigree, you won't be short of style cruising around town on one of these.
Trek has released an electric bicycle line-up of their own, an affordable model that is designed to aid mobility in the city and urban areas.
In our quickfire round, Tesla continues to smash records with a battery that can charge to 80% in just 32 minutes. There's also news about the successor to the Alfa Romeo Giulia (who may well have a range of 500 miles), as well as a sneak peek at the brand-new, limited edition Honda E.
Check all this out and more in this week's two-wheel special. 
Triumph TE-1 Project Completion Officially Announced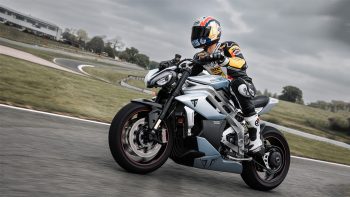 The Triumph TE-1 Crosses the Finish Line
Triumph has officially announced that the TE-1 electric motorbike project, which began in May 2019, has officially reached project completion. For those who may not know, the TE-1 is Triumph's great leap forwards in terms of electric motorbike engineering, with a lot of marketing surrounding its production.
The British motorcycle company set out to achieve "ground-breaking" developments, and it seems that the project has achieved just that, paving the way for future EV achievements.
What Makes the TE-1 So Special?   
While the TE-1 isn't the first electric motorbike on the market, Triumph's latest creation combines similar performance and range to existing ICE models with all of the thrills that come with instant torque (109Nm). The result? Instant responsiveness and a smooth ride through the entire rev range. This makes for an insanely fun and silent ride, emitting zero pollution as you wind through twisty country roads or bolt down the motorway. 
One of the greatest features of the TE-1 is its incredible charge time of just 20-minutes (0-80%). That's plenty of time to have a cup of coffee and daydream about the ride ahead. 
Clocking in at approximately 100 miles (161km), the TE-1 definitely doesn't fall short on range. This is thanks to the specially developed battery produced in collaboration with Williams Advanced Engineering.
The current TE-1 prototype also packs a punch. Rigorous testing and adjustments mean that the TE-1 can put out around 130kW (175bhp), with a 0-60mph time of just 3.6 seconds. Triumph engineers believe that with further testing and modifications, this time can be reduced even further.
Triumph's Electric Future
It's fantastic to see Triumph dedicate time and resources to the advancement of electric motorcycle development, pushing the boundaries of what we previously thought possible. We can't wait to see what further developments come from Triumph, and how other motorcycle manufacturers will respond.
The 5i EQ Is Trek's New & Affordable Electric Bicycle
Cute & Comfortable – What's not to love?
Electric bicycles have been well established for many years now, with new models coming out each year. So, what makes the Townie Go! 5i EQ from Trek so special? While its full name may be a bit of a mouthful, the 5i EQ slots in as one of the most affordable electric bikes in Trek's electric line-up, at $2,950.
Designed for the Daily Commute
Marrying style with utility, the 5i EQ is perfect for commuters, equipped with a Bosch electric motor with an output of 250W. The Bosch motor can achieve an assisted top speed of 20mph, which is perfect for those longer journeys, or if you fancy taking a short detour on your way to work. 
Trek have really nailed down on ease of use with their latest creation; the 5i EQ comes with the quality Shimano Nexus 5-speed internal gear hub as standard, which ensures a smooth and seamless transition between gear changes. All that you need to do is keep pedalling! Another quality-of-life feature of the gearbox is that it helps to prolong the life of the battery, so you can go for longer before needing to change it.
Lastly, thanks to the well-designed frame, it's easy to mount and dismount the bike without any hassle. There are also plenty of accessories you can choose from to customise your bike, including an integrated wheel lock and cargo racks.
Ducati Reveals Two New Electric Folding Bikes
(Source: Ducati) Pictured Left: The SCR-X. Pictured Right: The SCR-E GT.
SCR-ious Entries into the Electric Bicycle Market
Ducati has doubled down on its commitment to small two-wheeled electric bicycles with their latest releases: the SCR-X and SCR-E GT. Both of these are fat tyre folding bikes which both utilise a 48V Bafang motor – this allows for a top speed of 16mph.
So what's the difference between the two models? Well, the SCR-X is designed for urban settings, with a battery that can last for approximately 50 miles. On the other hand, the SCR-E GT is designed for the more adventurous rider, with full suspension support thanks to a central shock absorber.
How Much Will One Cost Me?
Ducati will be releasing the two models online and at Ducati dealerships within the coming days. We are left to speculate on the price for now, however Ducati's pedigree of Italian, high-quality design will likely be reflected in this. For those who are looking for a souped-up folding bike that will have them cruising around town in style, Ducati have got you covered.
Quickfire Round:
This Week's Numbers:
7,000+ – Kia EV6 units sold in the US (Q2 2022)
83% – Increase in worldwide electric car sales compared to Jan-June 2021
$526 – Billion estimated to be invested by OEMs in car electrification through to 2026