My Journey Through Asia: Something a little different
My Journey Through Asia
This week, something a little different, I am reporting the EV news whilst living and travelling through Asia –  Woohooo!
I have been covering the latest Electric Vehicle news, featuring electric cars, motorbikes, boats, scooters, and much more on The EV Marketplace's blog for a while now, reporting the news from The EV Marketplace's UK base, now through my travels I have gained more insight into how going electric will really benefit us, and want to share some of my insights with you all.   Now without further ado, let's dive into today's article.
Same same but different (A phrase often used in Thailand) 
From June this year, I've been travelling through two countries which share just as many similarities as they do differences. Although Thailand and Vietnam are individual in name, architecture and language, can you guess one thing that ties them both together?
Maybe you said heat…
Maybe you said the food…
Or maybe you said motorbikes.
If you've ever travelled to either of these two countries, you'll know just how important two wheeled transport is. You could say that it is very much a part of the culture as owning a car is in the US.
We all need cleaner air!

Which got me thinking – Sadly really bad air quality is certainly another aspect that Thailand and Vietnam have in common, and we know that Zero Emission Electric Vehicles are one massive step forward to reducing air pollution, so how are things developing with electric vehicles?

The Electric Vehicle Arms Race:
Let's begin with a bit of global context.
It's no secret that the transport sector is one of the largest contributors to pollution, with measures and targets aiming to tackle this being introduced throughout the world. As a result, we've seen a global rise in the adoption of alternative forms of transport, with electric vehicles (EVs) squarely at the forefront of this trend.
To date, the adoption of EVs continues to grow across Europe, with more people buying electric cars, motorbikes, and e-bikes than ever before. Even though the world has been gripped and shaken by a global pandemic, new plug-in electric car sales increased in Europe by approximately 2.27 million in 2021 and this growth shows no signs of stopping.
Now, ask anyone how China is doing in the global EV arms race, and you'd be hard-pressed to find someone who doesn't believe they're doing well.  In fact they are leading the charge forward to electric mobility for all.
According to the China Association of Automobile Manufacturers, China is currently on track to hit 5.5 million electric vehicles sold by the end of 2022. This includes plug-in electric vehicles, hybrids, as well as hydrogen fuel-cell models. Only time will tell if the country reaches this number, but data points to it being highly likely.
But what about Thailand and Vietnam? Well, let's start from the beginning – landing in Bangkok on a rainy day in June.
The First Leg: Bangkok, Thailand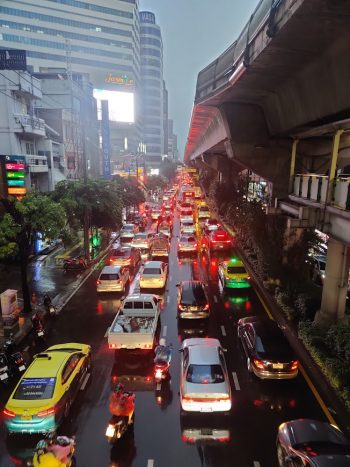 (Pictured: Bangkok – Rain + a lot of cars = a standstill)
Bangkok is the city that never sleeps, with 7-11 convenience stores sitting on every corner (and open 24/7!).
Being such a vast and sprawling city with a population of 10.7 million, it's safe to say that traffic can be… bad. To get around this, I often used the popular Skytrain monorail service, which was not only very inexpensive compared to the Tube in London, but was really convenient for getting around the city.
However, I was surprised when I first landed in Bangkok to see a sign for electric taxis (pictured below). As I made myself at home in the city, I noted that Toyota ruled the roost as the most popular taxi model. The Toyota Altis hybrid edition is becoming increasingly popular; however I had a harder time finding fully electric cars.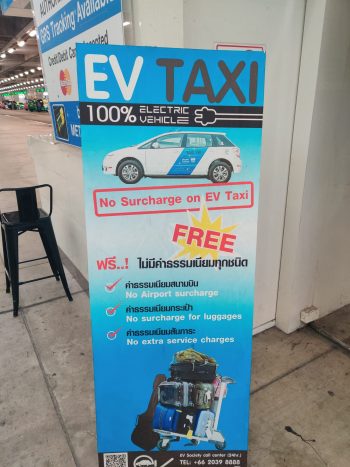 (Pictured: EV taxis at Bangkok airport)
One reason for the lack of plug-in electric vehicles I've noticed is, much like in other parts of the world, space is at a huge premium in Bangkok – with many people parking in multi-storey car parks that don't yet have electric charges.
Instead, many opt for a cheaper-to-run motorbike or moped, which are perfect for winding through traffic and jumping between the streets.
The Second Leg: Hanoi, Vietnam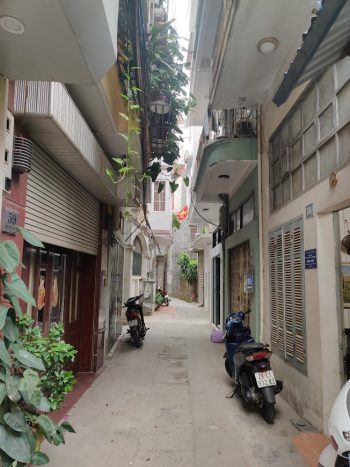 (Pictured: A quiet street in Hanoi, Vietnam)
After a few months spent exploring the city of Bangkok and the surrounding areas, I then decided to fly to Hanoi, the capital of Vietnam. Not only did this help to reset my visa, but it also was a refreshing change.
Now, if two wheeled transport is king of the streets in Thailand, then two wheeled transport is the king of the streets, the side-streets, the pavement, and probably the stairs of Vietnam. Bikes are, well, everywhere – and you quickly know it too.
I didn't realise how quiet Bangkok was in comparison, as riders in Hanoi liberally use the horn to let others know that they are there, as well as expressing frustration (as we are used to!). While Thailand has approximately 20 million motorbikes registered, there are around 50 million in Vietnam.
(Pictured: A beef stir-fry mix – cheap and delicious!)
During my time in Hanoi, I stayed in a quiet room situated down a narrow side street in the centre of the city – but this didn't stop motorbikes from making their way through it though!
I was also pleasantly surprised to see quite a few electric bikes around the city. Gone was the blast of carbon monoxide I'd receive when an ICE motorbike would travel past me through the tight alleyways.
From speaking to locals during my stay there, there is genuine interest in electric vehicles, however the status quo of cheap petrol bikes continues. Nguyễn Sơn, CEO of Đạt Bike, a Vietnamese EV bike manufacturer, stated in an interview that the EV market in Vietnam is "more active … but it will take more time for Vietnamese consumers to choose electric bikes."
However, there are already promising signs of this growth gaining traction. At the COP26 conference, Vietnam pledged to reduce emissions to zero by 2050. Following this, "the electric vehicle market and the electric scooter market in the country experienced strong growth," says Lê Hoàng Long of VinFast.
Needless to say, the pressure on auto manufacturers to produce electric models, such as that seen in China and Europe, isn't yet as prominent in Vietnam and Thailand. Greater pressure, compared with further education on the benefits of EVs, should help to push the country towards electrification.
As an aside, for the first time in my life I saw how a family of five can all fit on one motorbike, not an uncommon sight in Vietnam.
Back to Thailand: Chiang Mai
(Pictured: Central Festival Mall in northern Chiang Mai)
In September, I flew back from Hanoi to Chiang Mai, a city in northern Thailand known for its more relaxed atmosphere. Like Bangkok, motorbikes and mopeds remain popular, however cars are still very prominent.
It was here that I did a bit more digging into Thailand's policy toward EV adoption. As of writing, the Thai government has set the goal for EVs to account for 100% of vehicles sold by 2035. The government also offers subsidies and duty cuts to help bring down costs for the average consumer.
We will see how these policies affect EV adoption in Thailand over the coming years, however it is promising to see the country treading the same path as China and Europe.
Summing up:
As I've travelled through Thailand and Vietnam, I couldn't help but notice the potential for the traditional ICE vehicles to shift towards electric variants.
Of course, there are a number of factors that need to be introduced to accelerate the transition, such as greater government incentives, a change in consumer attitude, as well as greater education on the subject.
It does seem as if the pollution experienced in both countries could be helped significantly by a shift towards EVs. With China being the closest market specialising in EVs, perhaps we will see the adoption of Chinese-manufactured vehicles across both countries, or potentially we will see home manufacturers make greater efforts to shift towards EVs.
For now, though, I'll continue eating my pad Thai and keep on contemplating from the side-lines.
Check out The EV Marketplace to read the latest in EV industry news, get great deals on second-hand EVs, and much more…
and some notable positive news numbers:
5.5 million – EVs predicted to be sold in China by the end of 2022
51.7% – Increase in new electric vehicle sales in 2021
20% – Of all vehicles in Southeast Asia are predicted to be electric by 2025