Ducati – charging into the world of urban e-bikes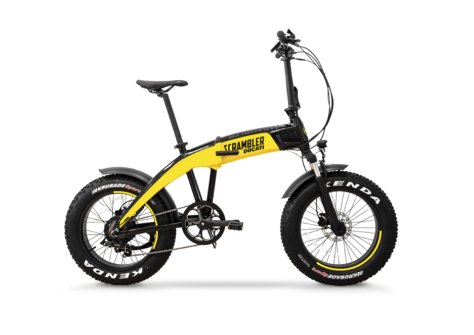 The Ducati SCR-E
The hardcore of the mountain bike fraternity took a little bit of persuading before they began to adopt the pedal-assist technology that is now taking the biking world by storm, in the same way we believe motorcyclists will soon begin the transition to electric power.
One traditional motorcycle manufacturer, who has teased us with electric motorcycle designs, but yet to launch an electric motorcycle is Ducati. They are however, charging forward (feet first) into the world of electric bikes.
Ducati in collaboration with the Italian e-bikes specialist Thok created the MIG-RR  (c.£6250.00) and is set to release this urban pedal-assist bike (c.£3500.00) shown above, into the Ducati Scrambler range of e-bikes, followed swiftly we hope, with the recently unveiled fold-up bikes, for take anywhere, electric travel.
The Fold up electric bikes recently unveiled show off Ducati's design prowess, with beautiful curves and attention to detail.
Rear LED light built into the seat post.
A full suspension version with longer battery range also joins the line-up, as does this super slick Brompton killer, the Urban-E.
All the electric bikes feature a range of riding modes and high-quality components, as you would expect from Ducati.  Full specs and prices still to be released.
Is a Ducati all electric motorcycle next to be launched off the production starting grid?