Electric boats, Islands, and new electric motorcycles + more EV news this week
Pushing the boundaries of what we believe they can achieve, EV's surprise us every day with constant innovations and new technology. In fact, while we love our two and four-wheeled EV's, we can't forget how the electric revolution is affecting other vehicle sectors too. We may well be on the brink of the age of electric aircraft, yet electric boats have already set sail.
This week, we'll be casting our eyes towards sunny seas and shores, where electric boats have already made a big splash. We'll talk about the Greek island of Halki, where plans have been made to transform the island into an electric-only, eco-friendly region. Next up, we'll get you in the mood for a holiday with three electric boats that are sure you catch your eye. We hope you don't get seasick!
If you're in the mood for extra EV-goodness, check out our quickfire round! From the latest electric motorbike revealed by Zero Motorcycles, to how the Apple car might look in the future, there's plenty of great news to get sunk into. 
Halki: How a Small Greek Island Is Becoming the Symbol of an Electric Future
Where is Halki?
Nestled in the south-eastern Aegean Sea is the small Greek island of Halki, a mostly barren and mountainous location that boasts a laidback atmosphere, plenty of sun, and 34 kilometres of coastline.
Launching the electric campaign
This otherwise remote destination found itself in the spotlight when the Greek government, in a deal with Citroën and its partners, agreed on transforming the island into an eco-friendly paradise. It isn't the first time an idea like this has been tested, with Citroën's nemesis Renault already doing the same in Porto Santo in Portugal and Fernando de Noronha in Brazil. 
The 'electric colonialism' in Halki will be jumpstarted with a small fleet of electric vehicles for the community, with Citroën looking to replace every vehicle with an electric alternative in the medium-to-long term. 
Halki's electric future
There's the potential for a precedent to be set in Halki. Who knows, we may be witnessing the birth of an electric utopia. With more and more companies like Citroën and Renault powering the transition to electric, we're so excited to see what happens next.
To learn more about Halki's electric transformation, read more here.
Electric Boats: Silent, Sensational Seafaring
We know how fun electric cars are to drive, gliding across the roads like silent (but seriously quick) clouds, but what about their ocean-bound counterparts? Boats have always screamed luxury, but have e-boats taken this to the next stage? Feast your eyes on our top picks for electric vessels below, and imagine yourself whisked away to a tropical paradise…
The Eelex 8000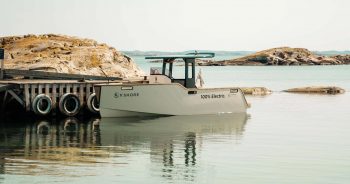 Promising to take your boating adventures to the next level, the Eelex 8000 from X Shore is 100% powered by an electric motor and built from sustainable materials including reused plastic and cork.
This model features a 225kW motor and a 126-kWh battery, reaching top speeds of over 30 knots with a range of 100 nautical miles. 
Don't let the materials used to build this impressive vehicle fool you either, it's designed to withstand rough waters, high winds and more. Charging up from 20-80% in a little over an hour, it's easy to see why this award-winning, minimalist e-boat is raising eyebrows across the world.
Candela C8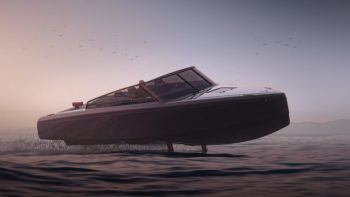 Is it a boat? Is it a plane? Who needs to actually be IN the water anyway? 
 The Candela C8 aims to completely reinvent how we look at boats. Aside from being fully electric, slicing through the water without a sound, this highly efficient machine promises fossil-fuel freedom aided by modern tech.
As for the features, there's the option to add a sunroof to provide additional shelter, spacing for two adults and two children to sleep comfortably inside, and a range of up to 50 nautical miles. That's far enough to travel the entire San Francisco Bay
740 Mirage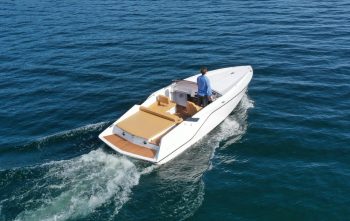 "No compromise" is the motto from Frauscher, the brains behind this luxury electric yacht, and we can totally see what they mean.
The 7.47-metre-long boat comes in two varieties, with a 60/110kW engine, and a 40/80 kWh battery with a maximum range of 48km.
With enough space to comfortably seat six people, there's no shortage of deck to lounge about, soaking up the sun. 
There's plenty of cool tech on board as well, with a Bluetooth-equipped audio system and LED illumination of the cockpit. Design meets practicality with the 740 Mirage, a stunning example of e-boat innovation.
For each of the e-boats listed above, you can check out more by following the links below:
Quickfire Round:
This Week's Numbers:
56.4% – Rise of used electric vehicles transactions between July and September in the UK
161mph – Top speed of the 2020 Porsche Taycan Turbo
190,000 – EV chargers pledged to be built by Connected Kerb by 2030
Until next week #TIMETOGOEV