This Week's Spotlight: Driving for Months without Charging, China's Battery Swapping Revolution, Polestar Set to Go Climate-Neutral, and more
What do Steve Jobs, Isaac Newton and Charles Darwin have in common? Whether it's a result of an apple falling on your head or experimentation with the mobile phone, ideas are the lifeblood of any revolution, and the EV revolution is no exception.
This week, we want to showcase some of the many incredible ideas that continue to propel the EV revolution across untravelled roads. How would you like to drive for months without charging your car? How about skipping the battery charging process altogether through a battery swapping program?
Our first story looks at the Lightyear One, a ridiculously cool EV that harnesses the power of the sun to reduce the need for user charging. A sleek, aerodynamic body allows the Lightyear One to travel even further – have a look at the car for yourself!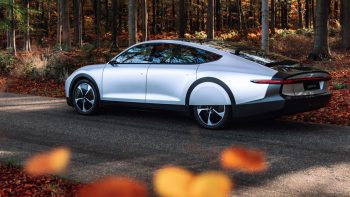 Up next, we dive into the work that Nio, a Chinese company, are doing to develop battery swapping infrastructure, including their recent expansion into Norway, a country that has seen the highest adoption rates of EVs in Europe.
In this week's quickfire round, we showcase an exciting up-close-and-personal look at the ID. Buzz, the homage to the classic campervan. Check out the video from the guys over at Fully Charged if you haven't seen it already. Our minds were certainly intrigued by the adoption of bi-directional charging – all explained in the video!
There's also news from Polestar, who are partnering up to develop their very own climate-neutral car, neutralizing the emissions that are normally a by-product of manufacturing a car. The Polestar Precept (pictured below) is the next step for Polestar in their journey to manufacturing the Polestar 5. 
(Img Credit: Polestar)
While not yet a final product, Polestar's collaboration with suppliers ZF Friedrichshafen and Swedish steelmaker SAAB promises a sustainable future for the brand. We can't wait to see what's to come.
Why not also read about the electric delivery prototype that introduces an exciting concept – semi-autonomous vehicles that could cut down on labour costs and decrease delivery times. Arcimoto and Faction have revealed a fantastically futuristic new vehicle that may well be delivering you your groceries one day soon.
The Power of the Sun: Driving for Months Without Charging
(Img Credit: Lightyear)
Lightyear's Mission
Every successful brand has a mission, and Lightyear is no exception. Searching for a way to provide transportation powered by clean, off-the-grid energy, Lightyear designed the Lightyear One, their first step towards clean mobility for everyone.
Specs and More: The Lightyear One
Take one look at the Lightyear One, and you'll instantly be able to tell that the designers went all-in on aerodynamics and all-around style. However, there's much more to this EV than that. This long-range vehicle utilises 5 square metres of solar panels to keep it topped up with juice when the sun's out. 
On a full charge, the manufacturer claims a 725km (450 mile) range, which is nothing to sniff at.
There's also much more going on besides the shiny exterior. Improved traction control, Android Auto compatibility, over the air software updates to name but a few. Seating for five provides ample space for lucky passengers to stretch their legs.
If you're able to swallow the somewhat large pill that is the price (€150,000), the Lightyear One can offer an experience like none other.
What's the latest?
The Lightyear One has recently had some very promising results as part of its testing phase. The EV recently drove 400km (248 miles) on a single charge during high-speed testing in Italy last month. However, the car has been known to achieve over 700km during previous tests at a lower speed. 
Our Takeaway
The Lightyear One looks to be a fantastic example of an out-of-the-box idea, and we love it. While it's likely not a realistic option for the average road user, it certainly goes to show that the technology to achieve off-the-grid mobility is out there and developing rapidly. Who knows, we may soon see variants of this exciting technology go onto the market.
Range Anxiety Busted: Introducing Battery Swapping
(Img Credit: Nio)
What is Battery Swapping?
Imagine you suddenly need to visit a friend in a different city. Hopping into your EV, you look at the amount of charge left and – disaster! Only 10% left…
Rapid charging can be a fantastic way to give your EV a much-needed boost when you need it, cutting down on charging times dramatically. On average, it takes approximately 20 minutes to charge an EV up to 80% battery capacity. The Porsche Taycan, for example, takes 22.5 minutes to charge from 5 to 80%.
However, there may be a second option to choose from. You instead drive your EV to a battery replacement facility (like the one pictured above), where you're provided with an exchanged battery in a matter of minutes, topped up and ready to go.
Battery swapping is an idea that is quickly gaining pace in China, thanks to companies like Nio who have helped to make this idea a reality. Where medieval couriers once swapped horses on the way to their destination, you may soon have the more advanced option of swapping out your battery when you need a charge.
Providing a Solution
Although increasing quickly, charging infrastructure is still developing in many countries around the world. In place of this, one idea is to transform current service stations into battery swapping facilities. China has already pressed ahead in implementing this idea, with eleven cities selected to be included in the pilot of this project.
If successful, the scheme looks to save approximately 700kT tonnes of fuel and more than 2Mt of CO2 per year, according to AutoManufacturers Association reports.
Establishment in Europe
Nio has recently launched its first battery-swapping unit in Norway, a country that we've spotlighted recently on the blog for having a very high uptake of EV ownership. BEV sales in Norway increased by approximately 92.5% compared to the same period last year.
As Norway is ahead of the curve when it comes to EV ownership, we wouldn't be surprised to see other European models adopt this model, and competitors establishing similar pilot schemes. 
Final Thoughts
Is battery swapping the cure-all solution we've been looking for? Well, time will tell as these businesses continue to grow and expand. One thing you can count on though is our coverage of it as it happens!
Quickfire Round

This Week's Numbers
105% – Global EV market growth in January 2022
316 – Mile range offered by the Kia EV6 2022 model
9 March – Date for official ID. Buzz reveal
Until next week, #TIMETOGOEV