EV news – E-Bikes in the snow, on the moon and more EV news from this week
Electric vehicles sure have come a long way from where they were five years ago. With new research conducted and exciting discoveries being made on a daily basis, the future for EVs is looking brighter than ever. 
Here at The EV Marketplace, we're all about tech, and nothing makes us more excited than when we see EVs pushing the limits of what we thought they could achieve. This week, we're spotlighting an EV that defies sub-zero temperatures, as well as one that is truly out of this world.
Check out our quickfire round as well, where we provide you with exciting news articles from around the web to have a look at. This week we're featuring Ducati's mission in the MotoE World Cup, the impressive BMW iX3, a sneak peek into the future for Lotus, and more! 
So, stick tight, grab your favourite towel, and get ready for some interstellar news.
Silent on the Snow: The Stardust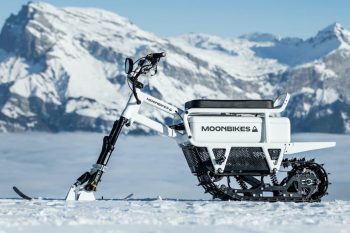 Ladies and gentlemen, may I present to you what looks to be the most fun looking vehicle we've seen to date, the Stardust! This ultra-light, fully electric snowbike is the product of French startup MoonBikes, and it's completely, utterly, unconditionally silent. 
Set to reach its first buyers by the end of 2021, this slope-conquering machine weighs a mere 80kg, while delivering impressive handling and smooth-as-silk turns. The Stardust tops out at 28mph, giving you that extra oomph while you're enjoying your time spent in the great outdoors. As for the range, you can expect up to 40 miles (65km) on a full charge.
Alongside this comes news from electric snowmobile manufacturer Taiga Motors, who has announced their plans for an off-road electric charging network in Canada. Powered by renewable energy, it's not hard to see how electric infrastructure and tech like the Stardust can work together to support the environment without sacrificing power or enjoyment. 
If you'd like to read more about MoonBikes' journey, you can do so here.
Motorcycles… In Space!
Waking up, you float out of bed to get ready for the day. After a few frustrating minutes of fumbling with your toothbrush and razor, you kiss your partner goodbye and slip on your spacesuit. You take a step outside onto the rocky surface of the moon, eyeing up your brand new, two-wheeled Tardigrade rover. At least the commute will be fun.
Well, that's the theory anyway! When you think of a lunar rover, you're likely to think of a four-wheeled, somewhat squat looking vehicle that's ultimately all about practicality. The Tardigrade, a prototype by a team of German designers, looks to change the way we think about rovers, in a way that may actually prove more practical.
Cutting down substantially on weight and size, the prototype certainly helps us visualise one example of the limitless potential for electric vehicles. If EVs can conquer space, then what can't they do?
If you'd like to learn more about the Tardigrade rover, check it out here.
Quickfire Round:
Until next week. #TIMETOGOEV