EV news spotlight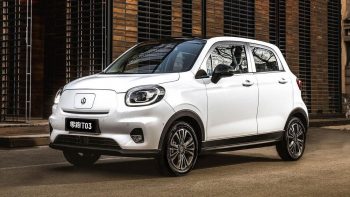 From the world's smallest EV, the Wuling Nano, to the behemoth that is the 7.5-tonne Tevva Truck, EVs come in all sorts of shapes and sizes, as well as price points. This week, we want to show you both ends of the price spectrum; what can £8,000 net you, and how about £2.2 million? 
If you've got a (very, very) large chunk of cash tucked away in your bank account, then the announcement by Hennessey of their six-wheel-drive EV hypercar may make your bank account sweat a little. On the other hand, the very reasonably priced Leapmotor T03 packs plenty of comforts, all while being super cute to boot. 
As for this week's quickfire round, we've prepared a handful of the juiciest, hot-off-the-press articles for you to pour over. From Nissan pledging £13.2 billion into 23 new electric models, to Audi's plans to speed up their transition to electric-only, don't miss out on what we've put together for you.
Project Deep Space: Luxury on Six Wheels
Straight out of a Sci-fi Movie
If this imagination-inspiring drawing from Hennessey is anything like the car to come, it's safe to say that this vehicle will be one heck of a head-turner. The Texas-based manufacturer has pledged to produce three all-new electric models over a 10-year period, the first project being this – the world's first six-wheel-drive, electric Hyper-GT. Its code-name even sounds ridiculously cool, 'Project Deep Space.'
So… What Do We Know?
This luxurious grand tourer will have the capacity to transport up to four adults in absurdly magnificent style. If the six-wheel-drive is anything to go by, this vehicle won't be left in the dust anytime soon either. 
While details are limited regarding exact specifications, a trickle have been released, including the fact that the vehicle will be powered by six electric propulsion motors and the body and chassis will be made entirely from carbon fibre. If you've recently won the lottery or have been saving up for the next big thing, why not keep your eyes peeled?
To read more about 'Project Deep Space', check out this article from Hennessey here.
Comfort & Affordability: The Leapmotor T03
Marrying Affordability and Luxury
Launched in early 2020, the Leapmotor T03 demonstrates what is possible when affordability and quality meet and enjoy a candlelit dinner together. Quickly becoming one of the most popular EVs in China, the nimbleness and driver comfort features make this a wonderful choice for inner-city driving. 
The Nitty-Gritty Details
There's a user-friendly dashboard, complete with a 10" touchscreen panel, as well as a 55kW motor that can reach speeds of up to 62mph with a range of 250 miles. If nothing else, the design of this funky little car screams city-driving. What's more, the T03 can also fast charge from 30-80% in a little over half an hour.
So, what's the catch? 
Well, the T03 currently isn't available in the western market, but if it was, the equivalent price cost would be about £8,000. That's nothing to be sniffed at. If nothing else, this super affordable EV is a wonderful example of what's possible even on a smaller budget. Take this as a daily dose of optimism that we're sure to see an equivalent inner-city car over here before you know it. Who knows, it may even be the T03.
If you'd like to learn more about the Leapmotor T03, why not check out this video from the guys over at Fully Charged? 
Quickfire Round:
This Week's Numbers:
621 Miles – Estimated range of the Mercedes Vision EQXX
2.5 Seconds – Time it takes for the Porsche Mission R to accelerate from 0-62mph
518 bhp – Boasted by the 2022 Porsche Taycan
Until next week. #TIMETOGOEV