ev news spotlight
It's undeniable that SUVs are a staple in today's car culture. They're big, excellent both on and off the road, and they're ready to transport all of you and your next-door neighbour's luggage when you take that trip you've been wanting to go on. Make the SUV an EV, and you'll remove one of their glaring issues – that they burn fuel like there's no tomorrow. 
This week, we'll be looking at two of the latest SUVs that have been announced by Kia and Fisker, the EV9 and the Ocean respectively. So, buckle up and remember – you're always free to take notes…
Also, don't forget about this week's quickfire round! From BMW's major electric milestone to Lucid Air's Alexa compatibility, there's news there for everyone to enjoy.
Efficiency and Flexibility: The Kia EV9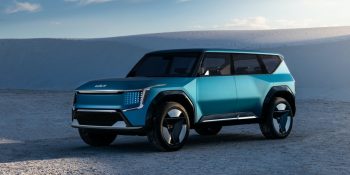 The EV9 at a Glance
There's no denying that the futuristic-looking EV9 is certainly eye-catching with its geometric design. The SUV, brandishing the motto "For a more sustainable future", first debuted at the 2021 LA Auto Show, and turned heads with its bold, yet striking appearance. 
Kia has also removed the grille, which is designed to increase the aerodynamics of the vehicle, alongside retractable roof rails which can be engaged when necessary. What's also striking is Kia's decision to replace the side mirrors with camera units, and to install a solar panel in the roof for when the car is parked outside. 
Taking a Look Inside
SUVs tend to make wonderful family cars, with plenty of space for everyone, be it going on holiday or taking the kids to school, and Kia have kept this in mind throughout the production process. There are three rows of seats, of which the front row can be flipped around to face the row behind, and the middle row can also be flattened to create what is essentially a table. 
What About the Specs?
As of yet, Kia haven't released a comprehensive list of what specs we can expect from the EV9, however, we do know that the EV9 will have a range of up to 300 miles, as well as be able to charge from 10-80% in under 30 minutes. Just enough time to have a few rounds of Uno with the kids on the flattened-down table. 
If you'd like to learn more about the EV9, check out this article here.
A Cinema on Wheels: The Fisker Ocean SUV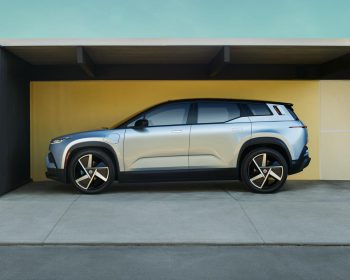 A Glowing History
From James Bond's BMW Z8 to the Aston Martin Thunderbolt, legendary car designer Henrik Fisker certainly has a track record when it comes to designing forward-thinking, fan-favourite cars. It comes as little surprise then that his latest venture, the Fisker Ocean SUV, combines practicality with no small amount of style.
"Sheer Magnetism, darling"
One of the most striking features when you take a look inside the Fisker Ocean is the whopping 17.1-inch screen that sits pride of place above the centre console. The screen is also able to rotate, transitioning from landscape to portrait mode effortlessly, a feature labelled "Hollywood mode" by the manufacturer, and it's easy to see why.
A Wide Range of Options
There will be four trim options available upon launch, with the base level Sport priced at $37,499, roughly £28,412 before tax. The Sport looks to have a range of up to 250 miles, with the passive-charging solar roof assisting in this.
Each of the other trims comes with an increase in horsepower as well as new battery technology. The Fisker Ocean One, the top of the range, will have 550bhp and an acceleration from 0-60mph of just 3.5 seconds. Not bad for when you're late for the school run!
For more info on the Fisker Ocean, take a look at this article here.
Quickfire round:
This Week's Numbers:
426 – Horsepower recorded by the Ford Lightning at its recent demo event.
$1,900 – Price of Tesla's new electric quad bike for kids.
380 – Mile range possible from the 2022 BMW i7 EV.
Until next week. #TIMETOGOEV