EV News spotlight on the US this week. Electric Ford F150's, Corvettes and more
With big EV news coming out of the US this week, we'll be taking a look at two all-American stories that are set to mark major milestones in EV history. Following this, you'll find five extra EV articles in our quickfire round to keep you up to date with everything electric.
Our first spotlighted story this week is Ford's production of the highly anticipated F-150 Lightning, which has already sold out online! Set to be the first full-size electric pickup available in the US, the F-150 promises to revolutionise the classic pickup.
What's more, Ford may be working on a second EV pickup truck as we speak….
Up next, Chevrolet have announced that they will produce at least two electric Corvettes, one hybrid and one all-electric. This marks the first EV announcement from the iconic American company, who is set to join other EV-minded motoring giants including Toyota and Volkswagen.
Once you've had your fill of our spotlighted articles, check out our quickfire round! This week there are some impressive figures coming out of the EV space, including Lucid securing a deal of up to 100,000 EVs with the Saudi Arabian government.
There's also news from Chrysler, who have provided us with some insight into what their electric future will look like. Check out the Chrysler Portal concept from back in 2017 below, which just goes to show that Chrysler has been thinking of EVs for a while now…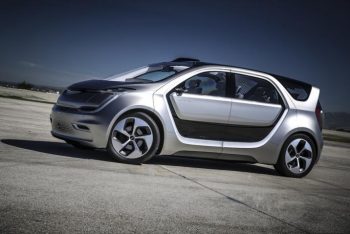 New EV standards have been proposed in California, as the state commits to only selling electric vehicles from 2035. In the meantime, the proposed standards would require the percentage of electric vehicles sold by manufacturers to exceed 35% by 2026.
Read on for links to all of these articles and more in this week's quickfire round.
A Milestone Moment for Ford: F-150 Lightning Starts Production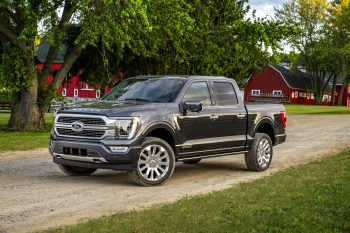 The American e-Dream
Since its big reveal in May 2021, the Ford F-150 Lightning has sparked excitement and discussion across the globe. The world's first full-sized electric pickup had a lot riding on it, with many seeing the F-150 Lightning as the next great milestone in Ford's electric mission.
As of April 26th, 2022, the Lightning has officially been launched, with production proceeding immediately to supply an already sold-out launch across the United States. The Ford F-150 is America's best-selling pickup truck range for over 45 years in a row, and the Lightning's unprecedented demand looks to continue this trend.
A Historic Celebration
The words of Ford Executive Chair Bill Ford says it best, "Today we celebrate the Model T moment for the 21st Century." There's some poetic justice here, as the Lightning is being produced at the same electric vehicle centre that Ford perfected its moving assembly line in all the way back in 1913.
As part of the launch event for the F-150 Lightning, Ford also teased a second EV pickup. As of yet, there has been little information provided, but we expect to see more details revealed soon.
Packed with Tech – The Lightning's Specs
Don't be deceived by the Lightning's stature. This pickup can shift from 0-60 mph in around 4.5 seconds. What's more, the pickup can be utilised as a 10kW smart power plant. There are over 11 external power points, and the Lightning is stated to be able to power a house during an outage of up to 3 days.
The force of nature on wheels is available in two variants, standard range and extended range. The extended range model boasts up to 563 bhp, 775 lbs of torque and a 141-kWh battery. With an estimated range of 300 miles, there's not a lot that this pickup can't do!
The Age of Electric
Check out the reveal trailer from Ford here. We can promise you, it's a shocker!
For electrifying deals on second-hand EVs, check out our online marketplace at https://theevmarketplace.com/
Chevrolet Corvette to Spread Its Electric Wings
An Icon to Go Electric
Swapping its gas-guzzling engine for a battery and charging cables, this classic American icon is finally set to transform into an EV. GM President Mark Reuss hinted in a LinkedIn post that an "electrified" model will be released at some point in 2023, followed by an all-electric model.
This initial 'electrified' model will most likely be a hybrid based on the current design of the Corvette. However, we don't know as of yet whether the all-electric version will follow a similar design or attempt something completely new.
Supercar Competition
Chevrolet's latest announcement falls in line with the likes of Ferrari and Lamborghini, the former having announced that their all-electric variant will be released in 2025. Lamborghini, however, are currently slow on the uptake, having only announced a hybrid version.
An Electrifying Teaser
Want to see a sneak peek of what the electric Corvette has to offer? You can check out the teaser trailer here on Twitter.
Quickfire Round: