EV news spotlight on range busters, tech giants going Electric and more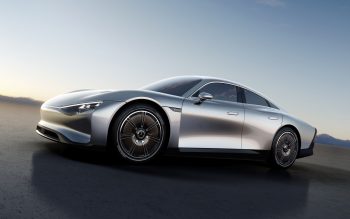 Range anxiety. It's a hot topic out there, echoed from conversations in the pub to the first thing aunt Sally brings up when you mention buying an EV, but what exactly is it? Is it even warranted? This week, we want to help dispel the lurking fear that some people have concerning range anxiety, as well as take a close look at two examples of truly range-busting electric vehicles.
While we're at it, for the hardcore EV enthusiasts out there – yes, we're looking at you!  – you'll want to check out this week's quickfire round, which is chock-full of fantastic news in the EV space.
For the motorcycle lovers, you'll want to feast your eyes on the latest news from Tarform, the sustainability-focused electric motorcycle manufacturer that is set to deliver their first electric motorcycle midway through this year. Some of the greatest features this bike has going for it includes its customisable dash and how it is designed to be upgraded –
it's a bike that keeps on giving!
If you have your eyes turned towards the skies, why not take a look at what Eviation has been up to this week? Their truly terrific all-electric aircraft, nicknamed Alice, took to the runway in a series of exciting tests. We don't reckon it will be long until she's up in the air! 
And let's not forget about the other hot news articles we're sharing with you this week. There's an interesting deep dive on how 'dead' lithium batteries can be given a second life, as well as an exciting announcement from Maserati on their dramatic return to racing, but with an electric twist! The last, but certainly not least, piece of news is all about Sony and the unveiling of their brand-new concept EV at the CES exhibition.
So, what are we waiting for? Let's get to busting some myths about range!
Range-busting Facts & Figures
So, What's Up with Range Anxiety?
Described as the fear that the vehicle you are driving will run out of charge before reaching your destination, range anxiety is often mentioned when the discussion turns towards EVs. With lines such as "I don't see how 150 miles per charge would be enough for me" being touted here and there, we wanted to set the bar straight with some handy facts.
The Facts
One thing to consider first is, just how often do you travel 150 miles in one go? When we consider the fact that 68% of all journeys in the UK are under 5 miles (National Travel Survey), the total range doesn't seem like such a problem. That's not all! The average car driver drives approximately 20 miles per day and 142 miles per week. Even an 'older' 2014 Nissan Leaf Model has a potential range of up to 155 miles, which is more than enough to cover a week's worth of driving without needing to be charged once. 
In his insightful video discussing such topics as range anxiety and more, Dr Euan McTurk breaks down commonly cited myths just like this one. Dr McTurk mentions that most EVs out there can rapid charge in the same amount of time spent on average at a motorway service station, and even that time is shrinking as technology improves.
An Even Higher Maximum Range
And if that wasn't enough to convince you, the technology allowing for larger capacity batteries is continually improving year after year. We mentioned earlier that we wanted to highlight some superstars when it came to range, and here's the first one!
The Lucid Air
This EV (pictured above) has graced our blog posts before, and for good reason too! The Lucid Air: Dream Edition will be the first, top-spec set of cars off the production line over at Lucid. While an official UK delivery date has not yet been confirmed, signs point towards the latter half of 2022.
But as for range, this is where things get even more interesting. The Dream Edition model from Lucid claims over 500 miles of total range. Fancy a trip from London to Glasgow, all on one charge? The Lucid Air easily trumps that total distance of 413 miles.
If you'd like to read more about the Lucid Air, check out this article here.
The Mercedes Vision EQXX – Crowd Pleaser and Range Beater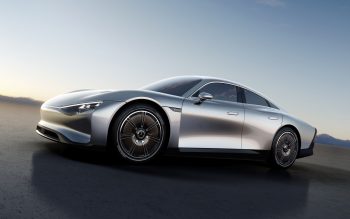 A New Milestone for Mercedes
The super sleek prototype pictured above is the latest all-electric creation from Mercedes that boasts some truly fantastic specs, one of the most notable being the total range it offers. On a single charge, Mercedes claims that the EQXX can potentially have a range up to 1,000km. That's around 621 miles. On. One. Charge.
So How Do They Do It?
Some of the innovative ways Mercedes can achieve such a range include the reduction of battery size and weight. The latest battery model is 30% lighter than the one used in the Mercedes EQS. Mercedes also claims an efficiency of 95% between battery and wheels, meaning less charge is wasted – and more road covered.
A Vision for the Future
Mercedes has labelled the Vision EQXX as their "halo car" for an electric future, and with specs as impressive as these, it's clear why. From the sustainable materials used in the vehicle's construction to technological improvements, Mercedes looks to be giving their A-game when it comes to producing electric vehicles, and we couldn't be happier!
If you'd like to read more about Mercedes' latest creation, check out this article here.
Quickfire Round:
This Week's Numbers:
41,296 – Porsche Taycans sold worldwide in 2021
50 – Minutes required to charge the Tarform from 0-80%
34,783 – Number of Tesla Model 3s sold in the UK (in 2021), making it the best-selling EV in the UK
Until next week, #TIMETOGOEV