EV news spotlight – The Delorean is back! The coolest Lexus ever? and more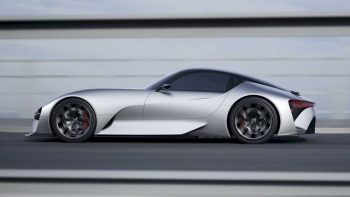 Great Scott! This week's news puts DeLorean back in the spotlight with their exciting new EV teaser. Announcing the transformation of their legendary car into a luxury EV, we couldn't be happier to see the dust brushed off in favour of a new chapter. We'll keep our fingers crossed for a flux capacitor though.
However, for those waiting for the moment when EVs surpass fossil-fuelled vehicles in the mainstream, you won't be needing a time machine. The exponential growth of the EV sector witnessed in 2021 shows no sign of stopping this year. This week, we'll be discussing the signs that 2022 is set to be the greatest year yet for the EV industry. Our electric future isn't next year. It's now.
Take a glimpse at this week's quickfire round too, and you're sure to find something that catches your eye. There's news from Lexus who have revealed their latest EV supercar, the spiritual successor to the LFA, which will be available from 2030.
Fans of the ultra-stylish Mini also won't have to wait much longer for the 2022 Electric Resolute Edition, with deliveries set for this year. With widespread appeal – the electric variant almost doubled its sales in 2021 – this year looks to be a great one for the Mini.
From the Swedish manufacturer Polestar comes the latest on their GT model, the Polestar 5, which continues its development in the UK. To read all about this and more, check out our quickfire round at the end of the blog.
"Are you telling me you built an EV, out of a DeLorean?"
"Where We're Going, We Don't Need Roads."
OK, we'll stop with the Back to the Future quotes now… 
While we do, undoubtedly, still need roads, we also need a little bit of style. DeLorean has that in handfuls. The DeLorean Motor Company has released this teaser trailer for their next-generation vehicle. 
With historic luxury-car manufacturers such as Ferrari, Lamborghini and Rolls-Royce pledging their transition to electric, it's also nice to see the return of this iconic vehicle for a second lease of life. 
So, What's Next?
Despite details currently being limited, it is possible to sign up to the waiting list for when the next set of news is dropped. According to the website, we'll be seeing a premiere this year. 
While we doubt this model will be powered by plutonium, we can't wait to get into the nitty-gritty details once they are released.
EVs Launch into 2022: Will This Year Be the Tipping Point?
The Momentum Continues
If 2021 was anything to go by, then 2022 is set to be an incredible year for EVs. In 2021 approximately 9% of total new car sales were electric, with Tesla leading the way in total sales. This marks a dramatic increase from 2.5% of total new car sales being electric in 2019. Such incredible growth, while combatting the consequences of the pandemic, is nothing to be sniffed at.
Demand for Electric Vehicles Remains High
It's no wonder that manufacturers are investing heavily into EVs, with the likes of Toyota set to invest $35 billion into electric vehicles by 2030. The demand for EVs has never been higher, with many manufacturers asking for a deposit months before cars become available. 
To help keep up with demand, Tesla previously announced their own plans to construct two Gigafactories, one in Germany and one in Texas. Such heavy investment from large companies like these goes to show that they expect growth and demand to remain high.
What We Can Expect from 2022
We're looking forward to some fantastic releases and news from the likes of BMW, Tesla, Ford, Nissan and many more in the coming months. Aside from that, we expect sales to remain high as consumers continue to realise the affordability of EVs, especially in the second-hand market.
There's never been a better time to be an EV owner, so why not check out some of the options available? We'll be sure to keep you up to date with the latest and greatest each week.
Quickfire Round:
This Week's Numbers:
Half a trillion dollars to be invested over the next five years by the auto industry as we make the transition to electric vehicles.
181 – Horsepower offered by the 2023 Mini Cooper SE Resolute Edition
£250,000 – Invested into electric vehicles by East of England Ambulance Service