EV Spotlight – African e-Bike Revolution, All-New Polestar O2 Concept, Harley Davidson LiveWire S2 Update and more….
What comes to mind when you think of two wheels? Maybe a Hog, Bonnie, Duc or a 'Busa? 
From commuting workhorses to racing machines, there's a lot that two-wheels can achieve. As part of the electric revolution, we're witnessing a whole new world of two-wheeled freedom opening up – without the fumes!
This week, we're showcasing a fantastic story from Africa, where one rapidly growing business is transforming the African transport market with two and three-wheeled electric vehicles aimed towards taxi and delivery drivers. Read on to find out more about how much CO2 is being saved, jobs being created, and growth being generated.
What's more, for the Harley fans out there, we're also showcasing an update regarding the upcoming electric LiveWire S2 Del Mar, which is right around the corner! 
Check out even more stories in this week's quickfire round. There's the latest from Polestar, who have just released their most recent EV concept following the 'Arctic Circle' concept that aired a few weeks prior. Look at the absolutely stunning O2 concept below and read all about it in the article we have linked here. Did we mention the car comes with a drone?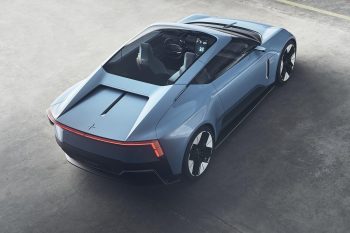 EVs stole the show in the UK Car of the Year Awards 2022, with the likes of the Porsche Taycan achieving Best Luxury, the BMW iX achieving Best Large Crossover, and the Fiat 500-e winning Best City Car – to name a few!
What's more, Razor (that's right, the Razor scooter!) is crowdfunding their very own electric homage to the classic scooter (throwback to your childhood or what!). If you're looking for a way to channel your inner kid, this lightweight and long-range e-scooter may be just what you're looking for.
Read about the latest developments in China too, as engineers are on the verge of developing EV batteries with a range of over 1,000km. All this and more in this week's quickfire round.
The African e-Bike Revolution
From Humble Beginnings
We love seeing electric vehicles providing much-needed answers to ongoing issues, such as a greener method of transportation. Bob Eco Ltd spotted the growing demand for two and three-wheeled vehicles in Africa following the economic slump due to COVID-19. They looked to provide an electric solution to replace the inefficient gas-powered bikes and three-wheelers that were being used.
It wasn't long before their first orange electric bike hit the roads in October 2020, aimed specifically towards taxi and delivery drivers who had been hit particularly hard by the pandemic.
Benefits and Statistics
So, what's so special about these bikes? Well, on average, each bike produced creates 2.6 jobs and saves 5 tons of CO2 emissions. To date, over 415,000 jobs have been created through the programme.
Riders and drivers who enter into a contract with Bob Eco Ltd can do so on a lease basis, meaning it's extremely easy for them to get set up and go.
Oh, and did we mention that drivers who use these bikes on average earn four times more than they did when using an ICE vehicle? 
Orange is the Colour of Success
Bob Eco's success hasn't gone unnoticed. Several African governments have reached out to the company expressing their interest in the scheme, with the Senegalese government ordering 232,000 vehicles from the company.
With major manufacturers such as Suzuki as business partners, it doesn't seem as if Bob Eco's success is slowing down anytime soon.
Giving Back to the Community
Aside from creating job opportunities and greater earning potential, Bob Eco also runs several social programs aimed at giving back to the community. This includes the likes of meal programs for children, constructing water sources for families without a clean source of water – just to name a few. 
What started out as an exciting opportunity to showcase what electric vehicles can achieve has completely transformed the lives of many people in Africa. 
If you would like to learn more about this project, you can check out their homepage here.
Harley Davidson Update: The LiveWire S2 Del Mar
Harley's Electric Future
Traditionally known for loud exhausts, shining chrome and leather jackets, Harley Davidson stunned the press back in 2014 with the reveal of the LiveWire model, their first electric motorbike. How Harley was able to shift their reputation from exclusively loud and proud models like the Fat Boy and Electra-Glide just goes to show how much they were willing to bet on an electric future.
The LiveWire S2 Del Mar
Fast forward to 2022, and we have the latest update from the manufacturer that the second iteration of the LiveWire range will be coming in the second quarter of the year. Whilst many details are still currently shrouded, some images and concepts have been released, such as the image above. 
A few changes can instantly be noticed, such as the new 'Arrow Architecture.' This is the bike's new proprietary driveline, including the battery, inverter and charger, speed controller, and motor all in one tight package. This new setup is particularly cost-effective and, if proved successful, will likely be a staple for the bikes that follow.
Pricing the Bike
The initial LiveWire model released in 2019 was priced at $29,799, which proved expensive for many potential buyers. While this pricing has come down quite a bit ($21,999 at the time of writing), the new LiveWire model is set to be even more affordable than this current price point. 
Marketed towards younger riders, the more affordable LiveWire S2 Del Mar looks to be a fantastic starting point for those testing the waters of electric bikes. Time will tell in a few months when we get a look at the final specifications and pricing.
The Roundup
From what we've seen so far, the latest model in the LiveWire series looks to be a fantastic engineering achievement and a real contender for this year's top electric motorcycle. We look forward to covering more as and when details are released, so stay tuned!
Quickfire Round:
This Week's Numbers:
£12bn – To be invested by Hyundai in their electric push to sell 1.87 million EVs by 2030.
$1,203bn – Predicted global electric vehicle market value by 2028.
2023 – Jeep to launch its first electric SUV.