This weeks EV news spotlight. Petrol prices soar and so do EV searches. Ford goes full speed Electric and more..

March continues in full swing as we bring you the latest instalment of exciting EV news from around the globe. Well, we say exciting, however some of the figures coming out of the news this week have been pretty shocking. For starters, when it comes to petrol prices, the average 55-litre tank now costs a whopping £88.58 to fill up, a trend that's set to increase.
Our first story looks at what this means for those who are interested in EVs. Following this deep dive is the latest announcement from Ford, who have set plans in place to produce no less than seven brand new BEVS by 2024. All we can say is, "Wow!"
Itching for more EV news? The quickfire round has your back. Spies in the field have caught what looks to be the latest Maserati GranTurismo EV testing out its winter skates. For Mercedes fans, the German car manufacturer has begun taking orders for their upcoming EV EQE variant (pictured below).
Mercedes is definitely on a roll, with the EQS, EQE and EQB being packed with innovative technology and some of the best range to boot.
For the coffee lovers, you'll want to sit down with a brew and read about Volvo & Starbuck's latest partnership. The pilot scheme from the two industry giants aims to give EVs a rapid boost in charge while customers grab their next dose of caffeine. Who knows, we may be seeing more crossover schemes like this pop up as time goes on.
If you keep your eyes on the sky, then the promising partnership between Lilium, NetJets and FlightSafety is well worth a read. Producing electric aircraft for use as flight taxis, the partnership will see up to 150 Lilium aircraft be used, with scope for more development in the US and European markets. All this and more in this week's quickfire round!
Petrol Prices Soar – So do EV Searches
A Day in the Life
You've just got home from work and, before stepping out of the car, you notice the fuel indicator is looking very, very low. Now, the next thought to pop into your head is the dreaded trip to the petrol station.
It's becoming increasingly painful for ICE vehicle owners when the trip to the pumps comes around. Even though 68% of all journeys in the UK are under 5 miles, a distance easily achieved by even the oldest electric vehicles, many people continue to use petrol or diesel to fuel their journeys. However, with these prices skyrocketing in recent weeks, for many it's a cost that's just too high.
Are Electric Vehicles Right for You?
As a consequence of all this recent uncertainty, many people have been searching online for electric vehicles. With lucrative tax savings to be had and cheaper fuel & maintenance costs, there's been a 37% increase in searches for EVs online.
For those who may be viewing electric vehicles for the first time, it's forgivable to see the price tag of new EVs and find yourself hesitating. While prices for new EVs are decreasing rapidly, there remains a gap between the price of new ICE vehicles and EVs.
That's where the second-hand market comes in. Imagine being able to make the same energy savings you can expect from making the switch to an electric vehicle, without the higher upfront cost of buying a new one. 
If you're interested in EVs, but don't know where to begin your hunt for a second-hand one, we've got you covered. Check out electric cars, bikes, boats and more at our online marketplace here.
The Future of Transport
With innovations in the EV space rocketing fasting than the price of fuel could ever dream of, there's never been a better time to get on board and experience what EVs have to offer.
A year ago, it cost around £60 to fill up a 55-litre tank. Today, that figure sits at £88.58. What will it be next year?
Ford to Add 7 BEVs to European Line-up by 2024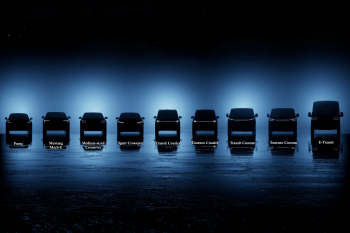 Announcing Ford's Lineup
Ford is the latest in a growing list of car manufacturers to announce an exciting new electric vehicle line-up. Pictured above, no less than seven new EVs are set to join the Puma and Mustang Mach-E as part of Ford's electric future plan.
An assembly plant in Cologne, Germany has also received $2 billion from the company to produce the latest generation of EVs. This site may well be one of the biggest factories in Europe for producing electric vehicles.
As part of their plan, Ford is aiming for 600,000 EV sales in Europe a year by 2026, a figure that would place the company at the forefront of EV production in Europe.
Next Up Is…
Following the success of the Ford Mustang Mach-E will be the medium-sized crossover, which will have five seats and a claimed range of 500km (310 miles). Although we don't have more details yet, we do know that production is set to begin in 2023, with a preview being given later this year.
An all-electric version of the Puma will be launched in 2024, taking Ford's lineup to the next level. The lineup also lists an electric transit van, as well as a brand-new sport crossover. More details are expected to follow in the coming months.
Ford's Future Plan
With a plan in place to be all-electric by 2035, Ford looks to be taking the transition to electric seriously. The company has also released a 20-minute-long video, exploring and detailing its plan of action over the next decade. You can watch this here.
Quickfire Round:
This Week's Numbers:
5,000 – Petrol stations have closed in the UK since 2020
110% – Rise in UK drivers purchasing EVS between 2020 and 2021
379 – Mile range for the Ford Mustang Mach-E Extended Range variant