UK could ban sale of petrol and diesel cars in 12 years, says Shapps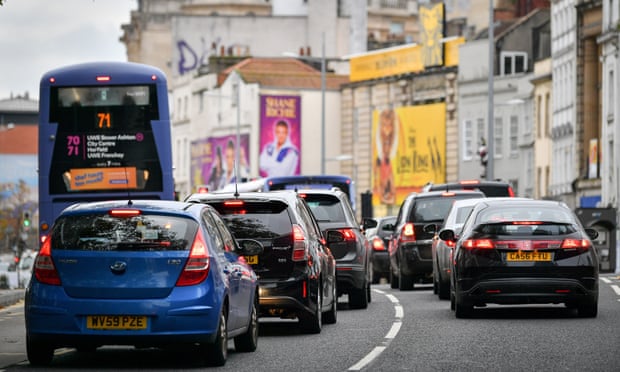 Transport secretary's disclosure of earlier target likely to rattle carmakers.
The government could ban the sale of petrol and diesel cars in 2032, three years earlier than previously suggested, the transport secretary has said.
A consultation launched last week suggested all cars with internal combustion engines could be banned from 2035 but Grant Shapps told BBC radio on Wednesday the ban could come within 12 years.
The ban would happen by 2035 – or even 2032, subject to consultation, he said.
The comments will add to the concerns of the car industry, which has criticised the government for "moving the goalposts" with its earlier announcement that the limits could come by 2035, from an initial expectation of a 2040 ban.
Mike Hawes, the chief executive of the Society of Motor Manufacturers and Traders (SMMT), said it was a "date without a plan".
Previous proposals also excluded some hybrid cars, which combine internal combustion engines with battery electric power.
Hybrids are seen by carmakers as a key way of reducing the carbon footprint of their vehicles, and multiple companies such as Toyota and the Mercedes-Benz owner, Daimler, have bet heavily on hybrids to avoid steep EU fines.
Shapps and Andrea Leadsom, the business secretary, will meet the SMMT on Thursday, with the lobby group hoping to persuade the government that the industry will need more help to achieve the targets.
Among the main concerns for carmakers are incentives such as grants for electric cars as well as building national infrastructure capable of charging millions of vehicles.
During the third quarter of 2019, the Department for Transport recorded 22,596 registrations of ultra-low emission vehicles, which includes electric cars – 39% more than the same period in the previous year. However, that still represented only 3.1% of new car registrations during the period.
European manufacturers are launching a wave of electric-only models to try to reduce the emissions of the cars they sell and meet the EU targets. Volkswagen, the world's largest carmaker by volume, plans to sell 1m electric cars by the end of 2023.
We've got an announcement…
on our progress as an organisation. In service of the escalating climate emergency, we have made an important decision – to renounce fossil fuel advertising, becoming the first major global news organisation to institute an outright ban on taking money from companies that extract fossil fuels.
In October we outlined our pledge: that the Guardian will give global heating, wildlife extinction and pollution the urgent attention and prominence they demand. This resonated with so many readers around the world. We promise to update you on the steps we take to hold ourselves accountable at this defining point in our lifetimes. With climate misinformation rife, and never more dangerous than now, the Guardian's accurate, authoritative reporting is vital – and we will not stay quiet.
We chose a different approach: to keep Guardian journalism open for all. We don't have a paywall because we believe everyone deserves access to factual information, regardless of where they live or what they can afford to pay.
Our editorial independence means we are free to investigate and challenge inaction by those in power. We will inform our readers about threats to the environment based on scientific facts, not driven by commercial or political interests. And we have made several important changes to our style guide to ensure the language we use accurately reflects the environmental emergency.
The Guardian believes that the problems we face on the climate crisis are systemic and that fundamental societal change is needed. We will keep reporting on the efforts of individuals and communities around the world who are fearlessly taking a stand for future generations and the preservation of human life on earth. We want their stories to inspire hope.
We hope you will consider supporting us today. We need your support to keep delivering quality journalism that's open and independent. Every reader contribution, however big or small, is so valuable. Support the Guardian from as little as £1 – and it only takes a minute. Thank you.
Source: The Guardian